Animator
Menu
File -> Import Rig will import the saved rig while preserving the animation.

No need to select anything if the target root name is the same as saved.

For multiple characters (or if the target name do not match) you need to select a target root.

File -> Export Rig will export all the controls to a file.

You need to select a group that holds all the controls you want exported.
Toolbar
Control Properties
The UI should be self-explanatory.
You can change the properties of multiple rig controls at once.
To change the defaults use the Settings option from the main menu.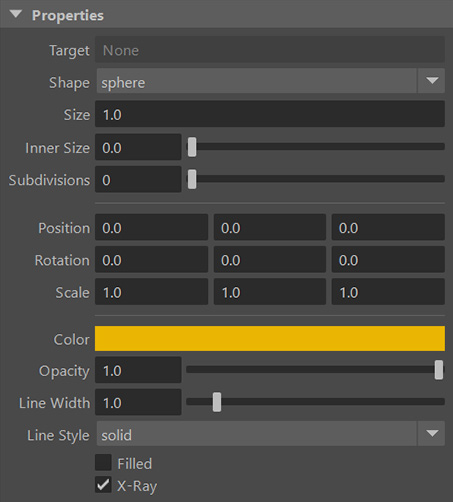 Space Switching
The rig control you want to change should be the first object selected.
Dynamic Overlap
Select a rig control.
Press the create button to enable dynamic overlap.
Update the strength value to lower/increase the amount of overlap.
Press the bake button once happy with the results to create the necessary animation curves.
Note
Currently dynamic overlap only works for one control at a time. In future versions it will be possible to enable and adjust dynamic overlap for multiple controls at once.
Mode
When switching between control spaces or other operations, keys will be created based on the selected mode.
SETUP will not create any keys (no baking).

This mode is useful when preparing the rig for export.

POSE will preserve the existing keys.

This mode is useful when posing a character.

ANIMATE will create keys every frame (baking).